Horrid Henry's Favourite Day

Previous episode

Next episode

Airdate

16 February 2009 (Monday)

Series

2

Episode

1

Episode overall

53

Directed by

Dave Unwin

Written by

Laura Beaumont/ Paul Larson/ Lucinda Whiteley
Horrid Henry's Favourite Day is the first episode in Series 2 and the 53rd episode overall. Whilst the episode received mostly positive reviews from critics, the title received criticism for not actually tying in with the episode and therefore deceiving the viewers.
Synopsis
It's Be Nice to Your Brother Day, and Henry's got the chance to win a Gross Class Zero game if he can be nice to Peter all day.
Plot
To win a video game, Henry has to be nice to his brother for a whole day. Can he make it happen?
Characters
Trivia
The episode's title seems to have no connection with the story.
This is the first episode to air in 2009.
Margaret's doll is identical to the one Lisping Lily owns in Horrid Henry's Sleepover.
When Ralph dresses up as Peter, the yellow wig is the same wig from Horrid Henry and the Injection.
When Henry tries to get the fluffy fairy comic from Margaret's fort, it's possibly a reference from Indiana Jones Movie.
Errors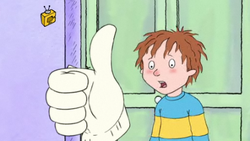 There are currently 3 errors in the episode Horrid Henry's Favourite Day. Update this count if you add or remove errors.
When Peter gives Henry a thumbs up after he cleans his room, his hand under his glove cannot be seen.
When Henry is about to get Margaret's Fluffy Fairy addition, the number of dots on the pillow change.
When Henry says that he doesn't have to be nice to Peter, his voice sounds like a girl's voice towards the end of the sentence.
Transcript
The transcript can be found here.
Status of Transcript: Incomplete
Video