is the fiftieth episode of Horrid Henry's Holiday
Series 1
.
Synopsis
Henry wants to go to Camp Le Fun for his holiday but his parents insist on going "real" camping at the campsite instead, close to the joys of nature. Henry hates the campsite because there are no televisions and no swimming pool and they have to swim in the lake.
Henry goes to great lengths to escape the campsite, such as locking Peter in the toilet, and also letting the sheep loose on the campsite. When Peter comes out of the toilet all smelly and crying, Henry begs to be sent home, but Mum says "oh no you don't" saying that Dad wants to be close to nature and that's what they're doing.
Finally Henry takes everyone's tent pegs and when it rains it causes everyone's tents to collapse and be flooded. Peter is upset and admits he hates nature. At last the family decides to go to Camp Le Fun.
Characters
Goofs/Errors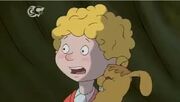 In the tent, when Peter wakes up he, is in his pyjamas, but when he says "What was that?" he is in his clothes but when he says that Henry is just trying to scare him, he is in his pyjamas again.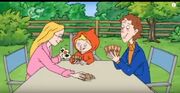 When Henry lets the sheep out of the field, many more sheep leave the field than were originally in it when Henry opens the gate.
At 10:04 Henry's Dad is wearing his casual clothes
All the rain move up and a few didn't.
Gallery