Horrid Henry Goes To The Park

Previous episode

Next episode

Airdate

2 November 2011

Series

3

Episode

16

Episode overall

120

Written by

Dan Berlinka/ Andy Williams/ Lucinda Whiteley
Horrid Henry Goes To The Park is the sixteenth episode in Series 3 and the 120th episode overall.
Synopsis
All Mum wants Henry to do is take a walk in the park, but Henry has other ideas - until he finds out that Ed Banger is the star attraction.
Plot
Henry thinks he's going to an awesome theme park, but he realizes that Peter is going to the Happy Hippos Theme Park. He's nervous about who the babysitter is, and soon in relieved that it's just Tetchy Tess. It shows a flashback of the last time and only time she babysat him. She doesn't care what he does except for disturbing her music so Henry unmistakably abuses this, but when he goes to the park, he's in for a shock! Henry finds out Ed Banger is in the park signing autographs and gets Tess to come with him so he can get his favourite album, everybody was waiting in line too. Henry tries to get in by stealing Kind Kelly's ice cream but security guard takes it a lick and Kind Kelly's Dad chases after him. Henry hides in the queue but then Hoppy makes him pull down Miss Crunch's skirt revealing her underpants by accident and he run off. Henry bumps into Pimply Paul who was carrying Vomiting Vera and alerts everyone where he is. Hoppy the dog jumps on one of the gaurds as Henry jumps high and lands in front of Ed Banger who finally sees him but then the policemen and gaurds takes him away. Henry sings a song when Ed Bangers hears him stopping the adults and asked for more songs which he is his number one fan after all and best of all, he doesn't have to wait in the queue While Ed Banger signs autographs for people, Henry gives them a song called Groovey but when Tess sees Ed, she faints and Henry tells him about his babysitter as they try to wake her up. Mum talks to Tecthy Tess who says that she is happy to babysit Henry all time and leaves but Mum was surprised and asked Henry what they have been doing today. Henry tells Mum that they went to the Park down the road like she told them to and winks to the audience, ending the episode.
Characters
Transcript
The transcript can be found here.
Status of Transcript: Missing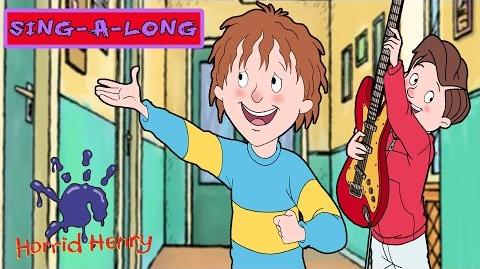 Video